News & Events
Pitching for Parkinson's
The American Parkinson Disease Association (APDA) and the National Parkinson Foundation Minnesota (NPFM)

Event:
Minnesota Walk for Parkinson's Disease
May 14, 2011 10:00-12:00 AM
Mount Normandale Lake Bandshell
5701 W. 84th Street
Bloomington, MN 55437

Pitching for Parkinson's
Former Minnesota Twin and recently announced inductee to the Baseball Hall of Fame, Bert Blyleven, along with Minnesota Parkinson's Doctors (neurologists), a person with Parkinson's disease, and a caregiver lined up to "Pitch For Parkinson's" at the Minnesota Walk for Parkinson's Disease. More than 1,100 people came together to create better understanding of the disease and raise funds for programs, services and research to benefit people with Parkinson's in a statewide effort. Parkinson's support groups across the state participated virtually by celebrating individuals who have Parkinson's at their monthly meetings and sending donations to support the cause.
Bert's father had Parkinson's disease, and he and his wife Gayle have been supporters of individuals with the disease for many years. "My dad passed away with Parkinson's Disease in 2004. There is a special place in our hearts for people with Parkinson's, and we want to help find a cure. Gayle and I will continue to be involved in the support of Parkinson's people and a cure." This walk was sponsored by the American Parkinson Disease Association (APDA) and the National Parkinson Foundation Minnesota, (formerly Parkinson Association of Minnesota). Both nonprofit organizations work to improve the lives of people living with Parkinson's. More information is available at apdaparkinson.org and parkinsonmn.org.
About Parkinson's:
Parkinson's disease (PD) is a progressive degenerative neurological disorder affecting up to 1.5 million Americans. Men and women are both affected. Although the highest incidence is in those over 60 years of age, people can also develop Parkinson's at a younger age. PD is characterized by slowness in movement; walking difficulty and postural instability; rigidity or stiffness of arms, legs or neck; and tremors, frequently in the hands at rest. Secondary symptoms may include depression, difficulty in speaking and/or swallowing, and facial masking. Dr. James Parkinson, an English physician, first descried Parkinson's in 1817. A predominant feature of the disease is a reduction in the neurotransmitter (message carrier) dopamine in the Substantia Nigra section of the brain. The loss of this neurotransmitter impacts movement in people with Parkinson's. There is no cure yet for PD, but management of the disease has been improved through the use of medical and surgical therapies, and lifestyle tools such as exercise. While the cause of Parkinson's is still unknown, some of the possibilities under consideration include genetic predisposition, exposure to environmental toxins, and a combination of both.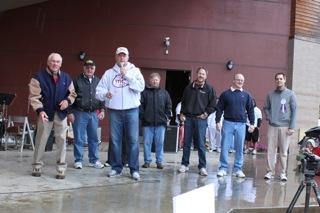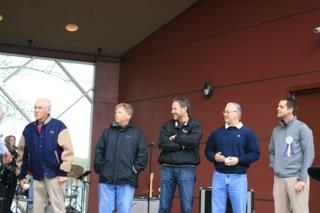 Caption for picture: Bert Blyleven, Parkinson's Doctors, a person with Parkinson's disease, and a Parkinson's caregiver warm up to Pitch for Parkinson's at the Minnesota Walk for Parkinson's! (Pictured left to right: Dr. Terrance Capistrant, Howie Haeg (person with PD), Jamie Benedict (caregiver, hidden behind Bert Blyleven), Dr. Richard Golden, Dr. Steven Stein, Dr. Jerrold Vitek, and Dr. Dan Kuypers)

Contact: Paulette J. Olsen, Former Coordinator, American Parkinson Disease
Association (retired) /Co-Chair, Minnesota Walk for Parkinson Disease
Phone: 763 786 2670 or (cell) 651 231 6653
Email: paulettejolsen@comcast.net
<< Return to News & Events Main Page